En breve: edición en español de Turbulence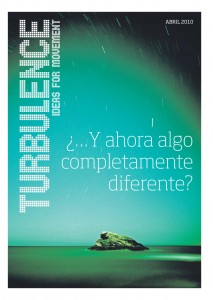 Cópias estarán disponibles en la Conferencia Mundial de los Pueblos sobre el Cambio Climático y los Derechos de la Madre Tierra enn Cochabamba (Abril 19-22). Lar revista también se podrá descargard desde la página web, y se podrán encomendar cópias a editors@turbulence.org.uk en cambio de una pequeña contribución para cobrir los gastos de envío. La revista será gratis.
Coming Soon: Spanish language edition of Turbulence
Copies will be available at the World People's Conference on Climate Change and the Rights of Mother Earth in Cochabamba (April 19-22). The magazine will also be downloadable from this website and copies will be able to be ordered from editors@turbulence.org.uk for a small donation to cover postage. The magazine will be free.